1

What is Equine Therapy?
Equine therapy, or equine-assisted therapy, brings horses into the counseling session to act as a sort of co-therapist. Horses are the perfect catalyst for healing as there is a natural human bond with these gentle, honest creatures, and they have an innate sense for the emotions of others that lends to the therapeutic process.
Equine Therapy is Effective for:
Trauma recovery
Child therapy
Counseling for autism
Cancer therapy
Addiction recovery
Raising self-confidence
Developing trust in others
Creating healthy relationships
Uncovering buried memories
Identifying emotions
Veterans groups
Learning responsibility
Emotional regulation
Mood disorders
2

How Does Equine Therapy Work
During your equine therapy session, you will interact with the horse by grooming, feeding or leading him/her around the stables while you and Bianca talk. With the horse as the co-therapist, you will experience your emotions mirrored back at you and the kindness of the animal will allow you to access deeper memories and feelings.
If you are uncomfortable opening up and talking or have a hard time finding what is below your surface memories, the horse will help you get past that so you can explore your depths. The horse also does not allow for false statements or hiding emotions and will force you to face what you really feel, letting you break free of the patterns that cause dysfunction in your life.
With the exception of Equine Therapy for Horses (below), we are not currently enrolling new clients in our equine therapy. To be notified as these therapies reopen please
Contact Us
and indicate your desire and therapy most interested in.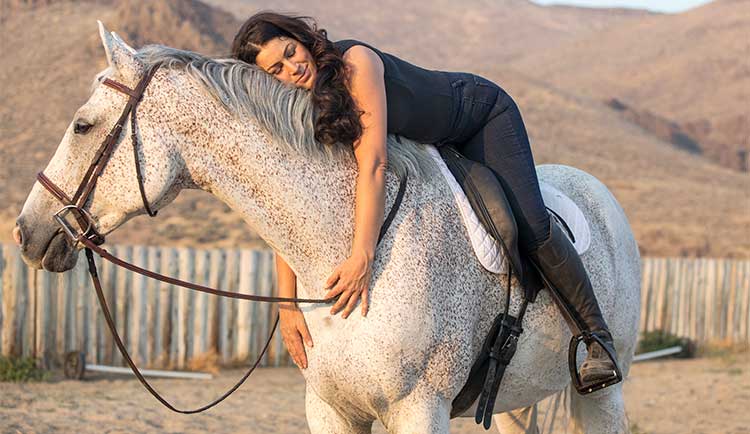 Healing Trauma
Equine-assisted therapy offers trauma survivors an opportunity to unlock hidden memories for greater healing to occur. The presence of the horse is also a gentle and loving one, giving many an experience of kindness that they may not be used to.
Learn More

Healing Kids
With a horse present, kids that normally have a hard time trusting others will feel free to talk and share their feelings. They learn responsibility and build self-confidence and develop a relationship with the large animal that can then transfer onto human connections.
Learn More
Group Work
From addiction recovery to veteran support, equine-assisted group work allows for more honesty and confidence in sharing. The horse unlocks the feelings and memories that may have previously been blocked out or numbed while a trained counselor facilitates group discussion.
Learn More
Cancer
Whether you are a cancer patient or a loved one of someone with cancer, equine therapy helps you discover what feelings you may not realize you are holding onto and allows for release and healing in a safe space with an experienced counselor.
Learn More
Autism
When communication doesn't come easy and feelings are hard to identify, talk therapy alone is often ineffective. The horse mirrors your emotions back to you, letting you put a name to what is inside, and the animal's presence allows for easier time with talking and sharing.
Learn More
Horses
Equine therapy is not only for humans; there are therapies designed to heal horses as well. Using a combination of LifeWave patches, sound healing, BEMER blankets, and microcurrent therapy, your horse can be freed from anxiety and pain and enjoy a higher quality of life.
Learn More